Steel dowel pins are precision hardened and ground parallel pins, engineered to tight tolerance limits, for accurate locating and alignment, in drilled and reamed holes. Fine-Parts offer a complete range of hardened steel and stainless steel dowel pins, both plain and tapped (internally threaded), in either metric or imperial standard measurements. Custom pins to drawing can also be quoted and manufactured to most customer requirements. Fine-Parts also manufacture a tapped dowel pin extractor tool in metric sizes M3 – M10 and also to BSW, BSF, UNC, and UNF upon request.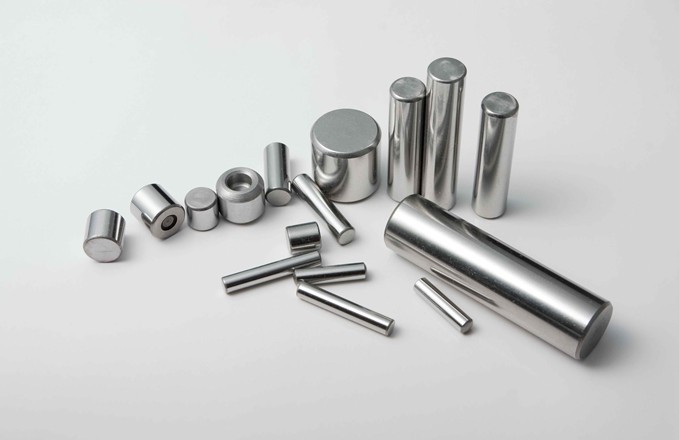 Dowel pins are ground cylindrical pins primarily manufactured for precise locating devices in machinery and assemblies. Steel dowel pins are machined to tight tolerances with the DIN and ISO standard pins being M3 -M10 on the diameter. The corresponding holes are usually reamed to allow for a press fit, clearance fit or transition fit.
When designing engineered components, dowel holes are often used as reference points to control positioning alignment to attain repeatable assembly quality. When dowel pins are pressed into blind holes it is recommended that dowels with 'air release flats' are used to allow displacement of air preventing damage to the work piece or the ejection of the dowel.
Steel dowel pin standards include:
Metric Pins
BS 8734 / ISO 8734 A / ISO 8734 B limits
BS 8735 / ISO 8735 A / ISO 8735 B limits
ISO 2338A / ISO 2338A (stainless)
DIN 6325
DIN 7979
DIN 7
ANSI ASME B
Imperial Pins
BS 1804 limits
ANSI ASME B
Most commonly used in Construction, Aerospace. Automotive and Agriculture Engineering, and composites.
Dowel Pin Standards and Characteristics
| | |
| --- | --- |
| Standard | Characteristics |
| ISO 8734 B | Case Hardened Steel (except 1mm to 3mm) Domed and Chamfered |
| ISO 8735 B | Case Hardened Steel – Internally Threaded (tapped) with chamfer |
| BS 1804 | Hardened Steel Dowels – Internally Threaded (tapped) with chamfer |
| ISO 2338A Stainless Steel | Stainless Steel (303/ A2) in Soft form with chamfer, chamfer. |
| DIN 6325 | Fully Hardened Steel with dome and chamfer dome |
| DIN 7979 | Fully Hardened Steel – Internally Threaded (tapped) with chamfer dome and air release flat. |